28 November 2022
Inhabit Place and Mano a Mano collaborate in Peru.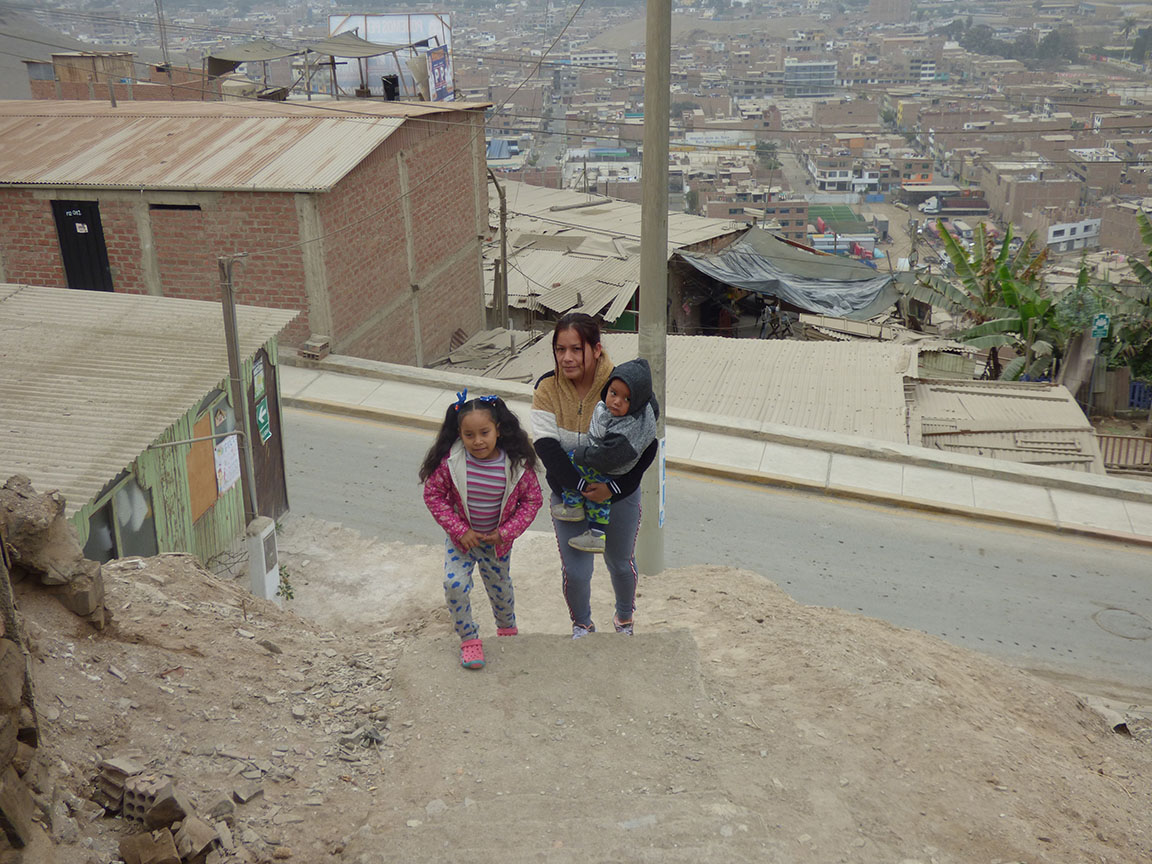 Inhabit Place delivered place audits with Mano A Mano and Her City (UN-Habitat) in Lima, Peru, across two passages: Pasaje Rosario and Pasaje Los Alamos in Puente Piedra. The place audits conducted here created a wealth of data outlining the safety risks within the area and how to better connect the neighbouring communities.
An overview of the audits indicated a majority of female users over male - 63.8% to 36.2% in Pasaje Rosario and 72.1% to 27.9% male users in Pasaje Los Alamos. A significant amount of children pass through both of these areas too.
The majority of surveyed users told us that they did not feel safe in these sites. They desired walls or barriers, handrails and a better stairway. Such data points create a clear reflection of lived expereince, and point toward the real and tangible improvements that can be made to elevate the public's appreciation of their place.
Marion Verdiere from Mano a Mano ran these place audits, and shared her insights and experiences with us below.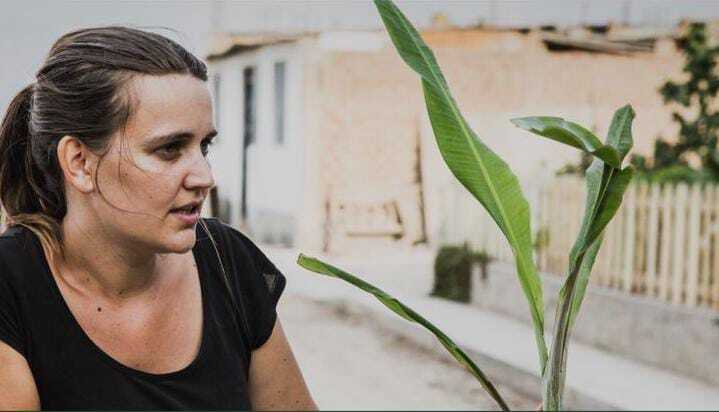 I was born in Amiens, France, and have lived in Lima, Peru since 2012. I've been working with Mano a Mano that whole time.
At first, the city of Lima seemed very unwelcoming to me. I came for an internship and I saw it more as a very interesting experience for a short time (3 months). Then I came again to work on a project with the Mano a Mano association, connected with another French association and a student group from a university in Lima. I stayed and learned to know more about the city and see its positive and negative sides. Now I feel comfortable living in Lima but always on alert knowing that it is a dangerous city.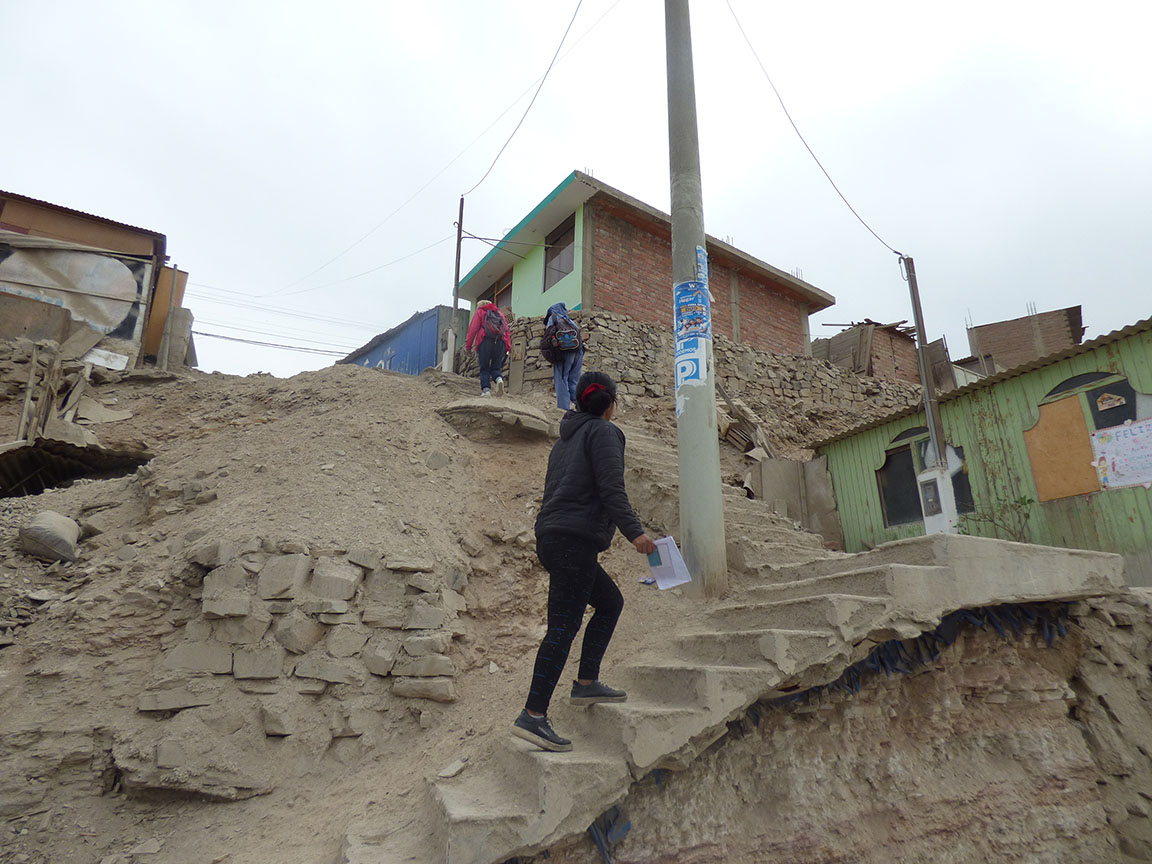 (Lima) is a very diverse and intense city; it has many different faces and to visit it you have to be aware of all those facets of the city in order to enjoy it.
I'm an architect working with the Mano a Mano team and the inhabitants of Los Jazmines and La Ensenada. We are working on the development of public spaces in the area and the construction of gardens, retaining walls, etc. with a group of trained women builders from the area.
I love this job because it improves the living conditions of vulnerable people, it's very valuable. It is a very concrete job and we can see the improvement over the years. When I just arrived, 3 parks had been built, now there are more than 15 parks that correspond to more than 5000 m2 of green areas. Garbage dumps in desert areas have been changed into green areas, where plants are exchanged, where people can harvest and rest. You can eat the bananas that have grown in the area, it is something very unusual in the hills around Lima.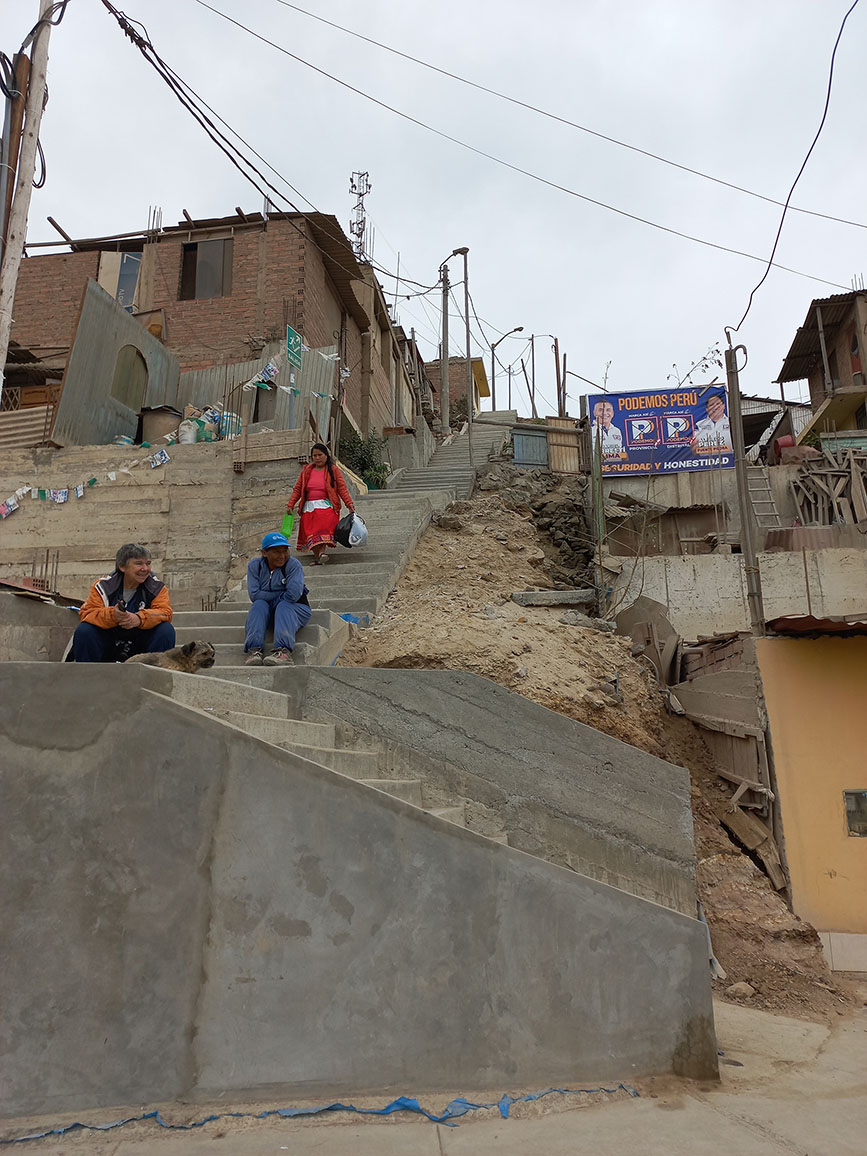 I really like the terraces in parks, where an incredible diversity of plants has now grown. When you're there, you don't feel like you're in a city like Lima, you feel like you're in the forest, in nature, and it feels very pleasant.
We are working with other communities to repeat what could be achieved in the Los Jazmines community, in which almost 90% of the green spaces have been built. The neighboring communities do not have authorized parks, everything remains to be done.
In our collaboration with Inhabit Place, I was participating in the training meetings to develop the methodology in the field. We worked with Elin and Ashwini, Mario from Onu Habitat and also the Avina Foundation team and Occupa tu calle team. It was very interesting to exchange with all those people who have many different experiences.
We realized that there were many more people passing through here than we imagined. Especially in the Rosario passage.
(The Inhabit Place tool) has allowed us to capture real data and has also made us really see how space is used. It was very useful and very easy to visualize the results to share later with the rest of the inhabitants, and the people who participate in the project.
I think it allows us to visualize the reality of the uses of spaces. Each one has a preconceived idea, mostly close to reality, but with this tool it is possible to visualize much more in detail, and it contributes a lot to the implementation of public spaces in a city. In fact, we would like to be able to use the application for other public spaces in Ensenada where everything is still missing!